What is Bimectin® Pour-On?
Bimectin® (ivermectin) Pour-On contains 5 mg of ivermectin per mL and delivers effective, long-lasting control against a wide range of internal and external parasites in cattle, in one convenient low-volume application. Bimectin® Pour-On penetrates quickly to reach and kill parasites, and also offers long-activity against them. The Pour-On presentation facilitates ease of application and reduced stress on treated animals, and is also Beef Quality Assurance-friendly, since no injection is required.
Bimectin® Pour-On is well tolerated by breeding animals and is also available in five different package sizes, to meet a variety of producer needs. It is also FDA approved.
Indications
Bimectin® Pour-On is indicated for the effective treatment and control of Gastrointestinal Roundworms, Lungworms, Cattle Grubs, Mites, Lice and Horn Flies.
Bimectin® Pour-on is indicated for the treatment and control of the following specific parasites:
Parasite
Stage
Gastrointestinal Roundworms
Ostertagia ostertagi (including inhibited stage)
(Adults and L4)
Haemonchus placei
(Adults and L4)
Trichostrongylus axei
(Adults and L4)
T. colubriformis
(Adults and L4)
Cooperia oncophora
(Adults and L4)
Cooperia punctata
(Adults and L4)
Cooperia surnabada
(Adults and L4)
Strongyloides papillosus
(Adults)
Oesophagostomum radiatum
(Adults and L4)
Trichuris spp.
(Adults)
Lungworms
Dictyocaulus viviparus
(Adults and L4)
Cattle Grubs
(Parasitic stages)
Hypoderma bovis
H. lineatum
Mites
Sarcoptes scabiei var. bovis
Lice
Linognathus vituli
Haematopinus eurysternus
Damalinia bovis
Solenopotes capillatus
Horn Flies
Haematobia irritans
Benefits
Broad spectrum control against a wide range of internal and external parasites
Rapid penetration to reach and kill target parasites quickly
Provides persistent, lasting activity against economically relevant parasites
Convenient, pour-on formulation that causes less stress on the animal
How to Use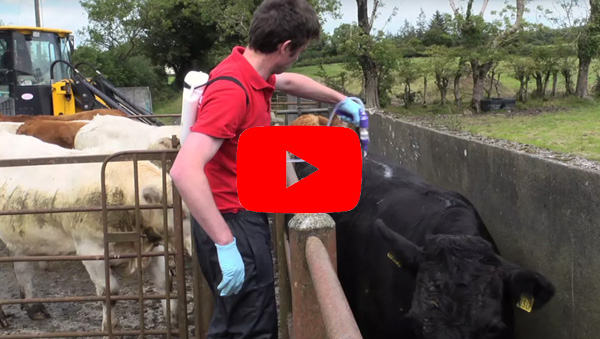 Withdrawal Period
Cattle
Meat and Offal
48 days
A withdrawal period has not been established for this product in pre-ruminating calves.
Do not use in calves to be processed for veal.
Milk
Do not use in female dairy cattle of breeding age
Pack Sizes
| | | |
| --- | --- | --- |
| List No. | Pack Size | Case Size |
| 1BIM005 | 1 L | 6 |
| 1BIM006 | 2.5 L | 4 |
| 1BIM007 | 5.0 L | 2 |
| 1BIM008 | 10.0 L | 1 |
| 1BIM009 | 20.0 L | 1 |