What is OvaMed™?
OvaMed™ (altrenogest) Solution 0.22% contains the active synthetic progestin, altrenogest. The chemical name is 17α-allyl-17β-hydroxyestra-4,9,11-trien- 3-one. The CAS Registry Number is 850-52-2. The chemical structure is: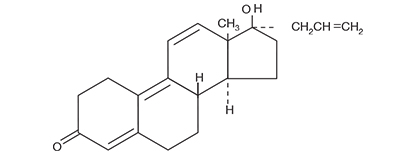 Each mL of OvaMedTM (altrenogest) Solution 0.22% contains 2.2 mg of altrenogest in an oil solution.
Caution: Federal law restricts this drug to use by or on the order of a licensed veterinarian.
Indications
OvaMed™ is indicated for the suppression of estrus in mares. Suppression of estrus allows for a predictable occurrence of estrus following drug withdrawal.
Benefits
Attainment of regular cyclicity during the transition from winter anestrus to the physiological breeding season
Management of prolonged estrus conditions
Scheduled breeding during the physiological breeding season
Withdrawal Period
Do not use in horses intended for human consumption.
Additional Safety Information
OvaMed™ is readily absorbed by the skin. Skin contact must be avoided; protective gloves must be worn when handling this product.
Pregnant women or women who suspect they are pregnant should not handle OvaMed™.
Contraindicated for use in mares having a previous or current history of uterine inflammation (i.e., acute, subacute, or chronic endometritis). Natural or synthetic gestagen therapy may exacerbate existing low-grade or 'smoldering' uterine inflammation into a fulminating uterine infection in some instances.
Various synthetic progestins, including altrenogest, when administered to rats during the embryogenic stage of pregnancy at doses many fold greater than the recommended equine dose caused fetal anomalies, specifically masculinization of the female genitalia.
For complete safety information please read label.
Pack Size
| | | |
| --- | --- | --- |
| List No. | Pack Size | Case Size |
| 1OVA007 | 1000 mL | 12 |